I love Mayne Island! Time move slowly there. Island time. One week felt like three. People move slower there. Animals move slower there. Mayne Island is such a nice place. I suspect it's so clean and tidy because the deer population eat everything that's not surrounded by six feet of chicken wire. They are cute, though. We saw 2 goats, 2 horses, 1 cow, 1 squirrel, 4 eagles, 2 herrons, and a number of seal heads bobbing in the water. No sheep. Apparently, Saturna Island is the island to visit if you want sheep. The way the ferry schedule worked out, we didn't get a chance to visit any of the other islands.
The place was nice and quiet. It was the perfect place to get away and do nothing. We did a bit of kayaking, a lot of hiking, and walking on the beach. Most of the waterfront areas are rocky and perfect for beachcombing and tidal pool watching...which is what I like. The one area that was sandy was so crowded. If I wanted to sit in a crowd, I would have just stayed home and headed out to Kits Beach here. I find it boring to just sit on the beach all day.
We checked out a few local attractions like the Lighthouse. The beach around the Lighthouse is perfect for tidal pool watching. Lots of small crabs, minnows and starfish. The rocks along here were all worn out by the tide to create natural chairs forsitting and watching the ferries go by.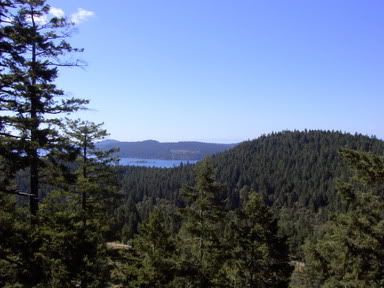 The view at the top of Mt. Parke was spectacular! Mount Parke Regional Park had lots of trails for hiking that were pretty easy and some not so easy. Apparently we took the harder trail up. Wondered why we were the only ones huffing and puffing at the top.
I found Indian Pipe flowers growing all through Mt. Parke. They're a strange looking plant, all white and waxy-looking. As they mature, the flowers blacken. The plant doesn't have chlorophyll and survive by sucking nutrients from nearby tree roots. Medicinally, they're used as a poultice for wounds that are hard to heal.
I was disappointed that I didn't acquire any new fibres.
Hatake Farms
was not open for visitors because Linda O'Brien was away. I was not able to arrange a visit to
Meadowmist Farms
either. That's ok. I had enough to keep me busy. I did re-read all six Harry Potter books, the Alden Amos spinning book. On the fibre side, I knitted half a sock, half a sweater, and 3 more rows on my lace shawl.
It's been fun.